Description
Google images scraper and image downloader
Alternatively, the script can be purchased at:
A simple-to-use Google images scraper and image downloader.
With this simple, yet powerful scraper, you have the ability to scrape or/and download google images based on keywords.
You can choose an action that fits your purpose – just scrape or scrape and download the images.
You can manually enter the search keyword, or you can use a configuration .xlsx file containing a list of desired keywords to scrape or download.
You can specify the number of items that you need to be scraped.
You can choose where to save the downloaded files and the scrape results.
Once the scraping is complete a valuable report file is generated.
We all know that Google is introducing breaking changes on its interfaces from time to time, but you shouldn't worry! This scraper comes with 1 year of free support and updates!
Short video demonstration: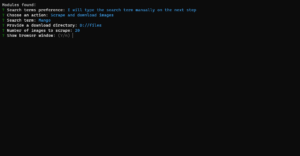 You can find our short and easy "get started" PDF guide HERE.
The Google images scraper and image downloader functionalities are tested on Windows OS.
*Disclaimer: The scraping software emulates human interactions and is designed to be lightweight by not overloading Google's servers with unnecessary requests.
For any inquiries or suggestions, please don't hesitate to use our contact form!